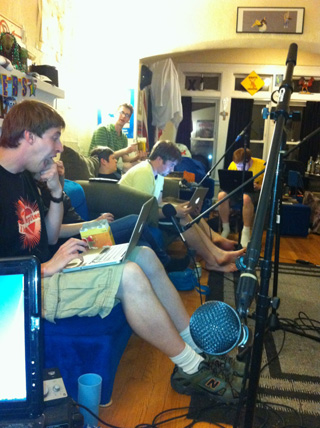 Octavarius podcasts live every Monday night at 9:45. The hour long, interactive discussion is inspired by mail bag questions, the theme of our upcoming live show, and events in the world.
The main podcast discussion is between the Octavarius members, live in the room, but we also post questions out to Facebook and Twitter, and we're always discussion with our guests in the live chat on Octavarius.com. Responses from the social networks and the live chat are read aloud during the podcast which powers a lively dialog between the in-room conversation and the endless possibilities of the internet.
Don't worry if you miss the live podcast tough, each episode is uploaded to Octavarius.com and to iTunes so you can listen later.
You can catch up old podcast episodes by subscribing on iTunes: